Bhutan Fashion Icon
The popular Queen Jetsun Pema has often been hailed for not just her stunning looks and kindness but also her elegance and fashion style. She is deemed as a fashion icon in Bhutan due to her chic fashion sense that oozes beauty. Aside from her love for designer labels, the Queen and King are also said to be good friends with renowned French Designer, Christian Louboutin, the world's most famous shoe designer. In fact, Christian Louboutin has previously embarked on a three year collaboration with Bhutan's School of Artisans to design a series of wooden wedges in traditional Himalayan colours. The design of the wedges were personally approved by King Jigme Khesar and Queen Jetsun Pema. 
While in Bhutan, the beautiful Queen is also often seen wearing beautiful exquisite Kiras, traditional Bhutanese costume, and unsurprisingly, her clothing style has a huge influence on the women.
The Royal Wedding Kira
For the royal wedding, bride Jetsun Pema, ordered several elaborate kiras from prominent weavers in the country. Jetsun Pema chose one of the kiras which are woven from raw silk and require several months to complete, as her wedding kira. She wore a light yellow tego and a kira colored red, yellow, green and white, along with red earrings to match her red wonju, the colours are also symbolic of astrology.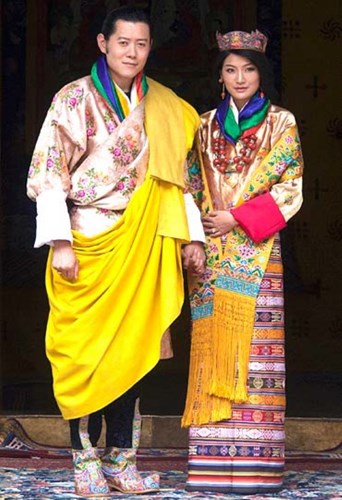 About Bhutanese Kira
The national dress of Bhutan for women, kira is an ankle-length dress of rectangular woven fabric. It is wrapped and folded around the body and pinned at both shoulders with silver brooches and bound at the waist with a colourful woven belt. The kira is usually worn alongside a wonju (long-sleeved blouse) inside and a short jacket or toego on the outside. On formal occasions, a rachu, a narrow embroidered cloth draped over the left shoulder, is worn over the kira.
How to wear a kira.
The photo gallery showcases Queen Jetsun Pema's colourful collection of kiras that she has worn for all the different occasions.