Fairytale Love Story of the King and Queen of Bhutan
When Jetsun Pema was 7 years old, she first encountered Crown Prince Jigme Khesar, who was 17 years old at a family picnic in Thimphu. Little Jetsun was captivated by the young Prince and Little Jetsun Pema came running to the Crown Prince, pulled his hand and said childishly: "I would like to go with you. I would like to marry you." The Crown Prince was bewildered and asked: "Why would you like to go with me? You have many friends here." Without hesitation, little Jetsun Pema replied: "I like you." The Crown Prince was touched by little Jetsun's gesture and it has been famously told that he suggested to her that when she had grown up, he would marry her if they were both still single and in love. Little Jetsun Pema was too young to know the identity of the young man whom she had just met. It was only until she was 10 years old that she realised he was the future King of Bhutan.
Many years later, the stars aligned, and the Crown Prince who already became the King of Bhutan, met Jetsun Pema again, who was then a university student. The Little Jetsun Pema has grown up to be a fine beautiful and talented young lady who immediately captured the heart of the King. King Jigme Khesar fell in love with her kindness and warm personality, and decided that he would marry no one except Jetsun Pema.
The King made an announcement about his engagement to Jetsun Pema during his address at the opening ceremony of the seventh session of Parliament in the Thimphu on 20 May 2011. 
Describing Jetsun Pema, he said:
"Now, many will have their own idea of what a Queen should be like — that she should be uniquely beautiful, intelligent and graceful. I think with experience and time, one can grow into a dynamic person in any walk of life with the right effort. For the Queen, what is most important is that at all times, as an individual she must be a good human being, and as Queen, she must be unwavering in her commitment to serve the People and Country. As my queen, I have found such a person and her name is Jetsun Pema. While she is young, she is warm and kind in heart and character. These qualities together with the wisdom that will come with age and experience will make her a great servant to the nation."
On 13 October 2011, they fulfilled a promise that was made on that fateful encounter during the picnic. At a young age of 21, Jetsun Pema married King Jigme Khesar Namgyel Wangchuck, making her the world's youngest queen. 
Below is a video tribute by DailyBhutan dedicated to Her Majesty on her 30th birthday in June 2020.
The Royal Wedding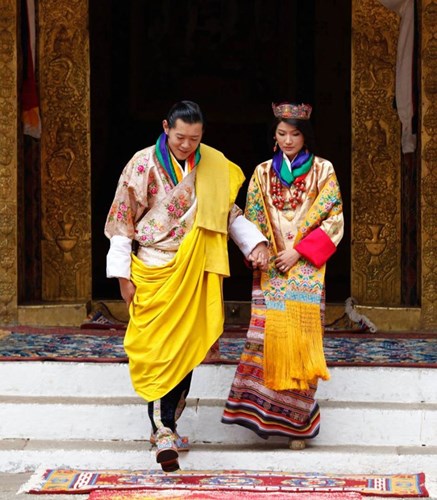 On the auspicious day of October 13 2011, Jetsun Pema was crowned the Queen of Bhutan at age 21 upon marrying King Jigme Khesar Namgyel Wangchuck who was 31 years old then. 
The royal wedding was held in the majestic fortress, Punakha Dzong, Palace of Great Happiness, in a simple traditional Bhutanese manner. Punakha district used to be Bhutan's ancient capital before the capital was changed to Thimphu in 1955. The Punakha Dzong is a historic site in Bhutan and also one of the country's most beautiful fortresses. 
The wedding day began as early as 4a.m. with prayers conducted by Bhutan's chief abbot followed by the separate arrival of the royal family and bride at 8.30 a.m. The joyous royal wedding was celebrated throughout the entire country with every citizen beaming with happiness and expressed their blessings for the newlywed.
Queen Jetsun Pema's Journey into Motherhood
On 5th February 2016, King Jigme Khesar and Queen Jetsun Pema welcomed their first child, Jigme Namgyel Wangchuck who is also affectionately known as the Dragon Prince.  In honour of his birth, 108,000 trees were planted by thousands of volunteers in Bhutan. The Gyalsey (Crown Prince) is also successor to the throne to become the sixth Druk Gyalpo, King of Bhutan.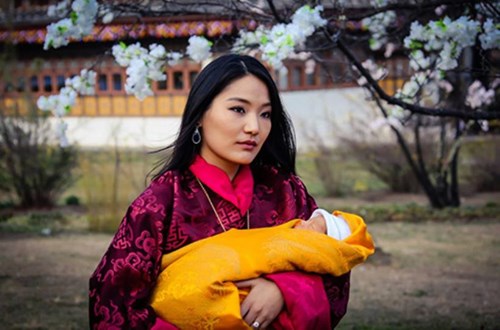 The Royal Prince has accompanied his parents on their official visits abroad and he has made great impressions all over the world with his cheerful disposition and adorable dimpled smile. This charming little Prince is definitely melting hearts the world over.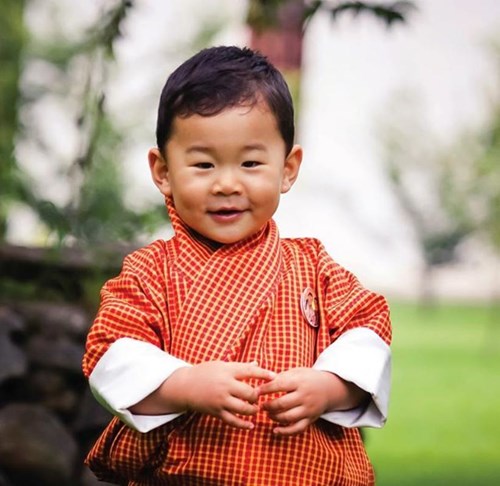 On 19th March 2020, coinciding with the 25th day of the 1st month of the Male Iron Rat year, the nation once again rejoiced at the birth of the second Royal Prince, Jigme Ugyen Wangchuck. His Royal Highness will be referred to as Gyalsey Ugyen Wangchuck. The second Dragon Prince has been named after the first King of Bhutan, Ugyen Wangchuck. Jigme is a common first name for members of the Bhutan Royal Family, all the Monarchs have been using that in their name since the first King of Bhutan.